It seems this year has flown by and October was here before we knew what hit us! This month is always crazy busy for us, but I managed to get the Halloween decorations out a couple of weeks before the candy goers arrived! Yay! The fact that Devin and I both were sick the week before with a horrible stomach virus made our front door sign that much more appropriate.
I kept the decorations fairly simple this year, using mostly black and white with punches of color in different areas.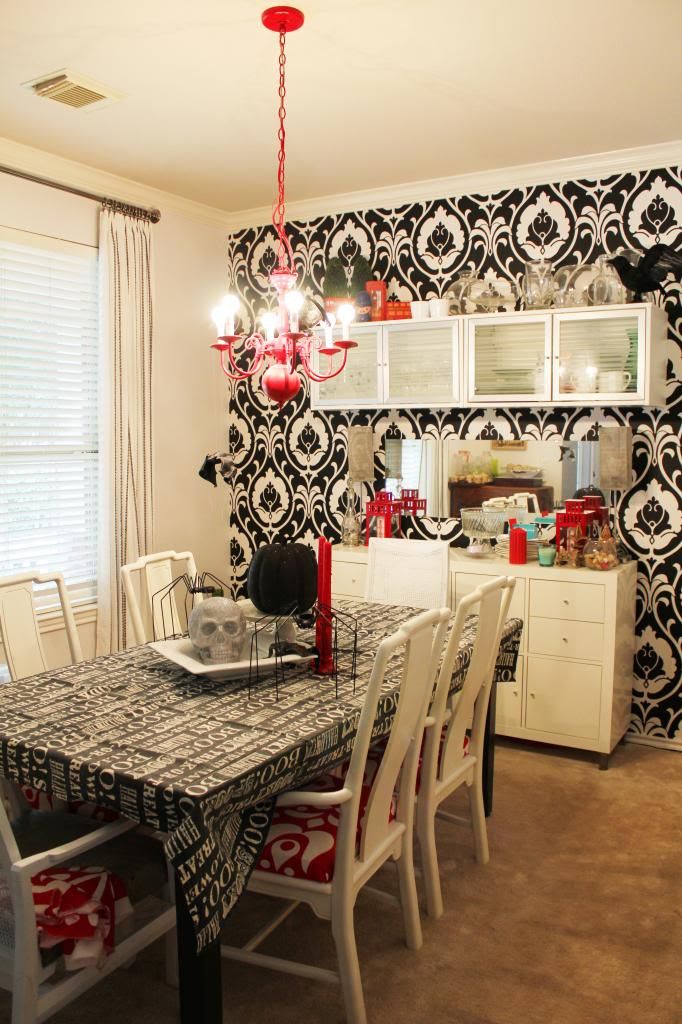 The dining room had punches of red because black, white and red are the typical colors in that room anyway. I added the tablecloth I purchased from Target last year I think and the sparkle pumpkin and skull from Target also. My favorite items are the very tall long legged spider votive candle holders from Pottery Barn a couple of years ago. I don't think you can see too well the bat hanging from the chandelier and the bat that has landed next to the skull...but they are there. In the picture above, if you look really hard, you can see the black crows sitting on top of the wall cabinet and the chandelier...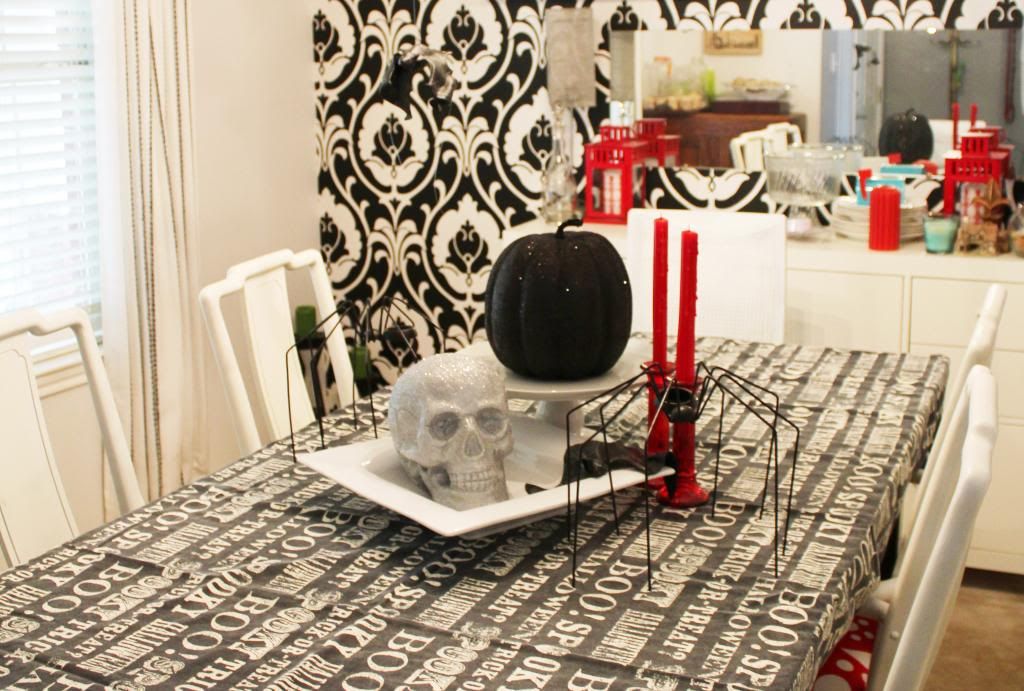 In the kitchen I have just a couple of nods to Halloween like in the dish towel hanging on the stove...
and the Frankenstein's Monster candy jar by the sink.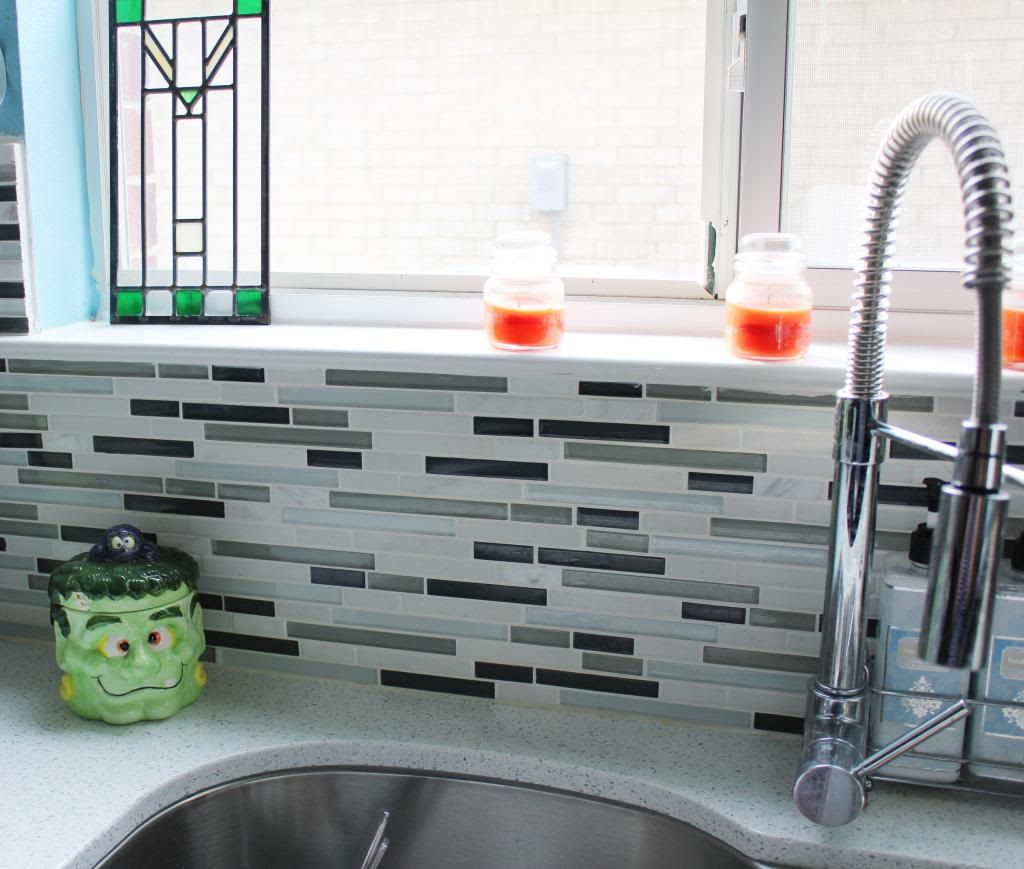 The breakfast area also has a couple of things like another black sparkle skull on the newly finished buffet...
and a couple of black and green feather wreaths from Target on the french doors. I used a little orange ribbon I had on hand to hang them.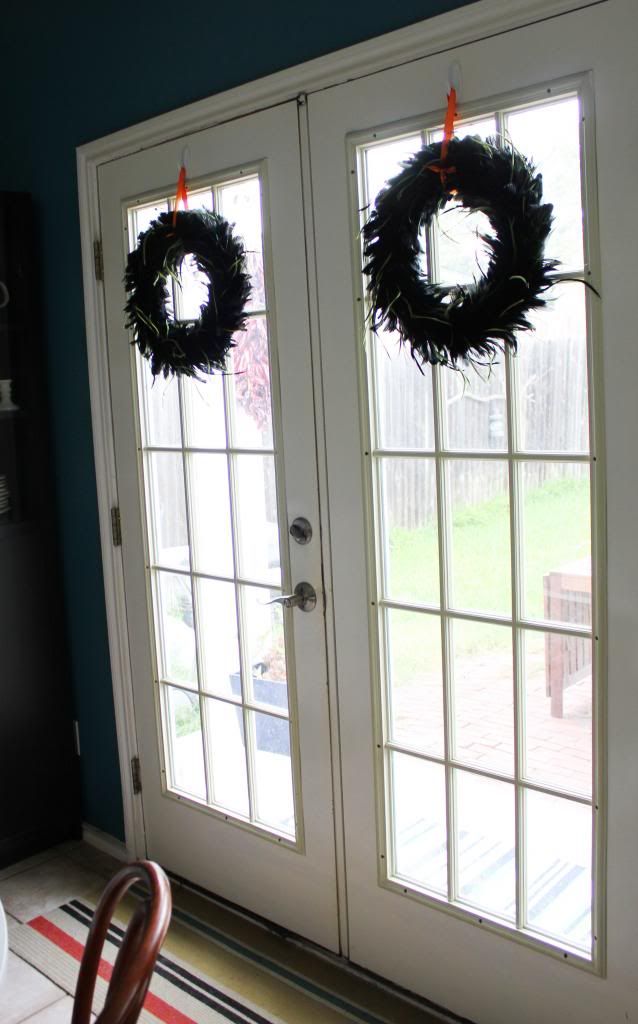 Finally, in the living room, I kept the pallet black and white with a couple of orange candles in the lanterns on the hearth. Pay no attention to the grass in the fireplace, now that summer is over, the grass needs to be replaced with pumpkins or something.
A couple of my favorite Halloween decor items are on the mantle. The witch there on the left hand side is a "dip and drape" doll that my mother made when I was a child. I just love her. Next to her is the mummy cat that I purchased at World Market a year or two ago, and it just cracks me up. When my cats are misbehaving, I just show them the mummy cat as a sort of threat of things to come if they keep clawing at my sofa!


Now we are fully prepared to watch scary movies for the rest of the month and dole out candy to the little ghosts and goblins that ring our bell on All Hallows Eve! How about you guys? Any festive decorating going on for Halloween? Am I the only one who absolutely adores this holiday?